| | |
| --- | --- |
| Sansa clip suddenly freaking out on adding songs | |
09-06-2013, 01:12 AM
Junior Member

Join Date: Apr 2013

Location: Georgia

Posts: 55
Sansa clip suddenly freaking out on adding songs
---
I do my random drop and drag with my newer clip ( i have 2) and something keeps happening. One I'll drop and drag a song to a folder and my comp will say "Coping song......." but wont progress then ill get a notice saying "Unable to copy "song" cancel or skip?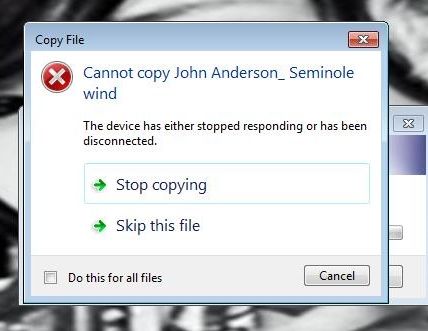 After that , my sansa clip will freeze on the sansa flower (or whatever that is) for a period of 10-12 minutes before "refreshing you media" will pop up. It's been doing this everytime I add a song. My older one (the version before the v1) has never given me this problem.
Do I need to stop the drop and dragging?
Maybe the music to micro sd card instead of directly to the player?
Do I need to use something like WMP to add the music from now on?
Specs:
I have sansa clip v1
updated firmware
Pc: widows 7
song: mp3 ripped from a yt video.
usb charging plug is the one that came with it
purchased July 2013
09-06-2013, 02:21 AM
Administrator

Join Date: Dec 2007

Location: Chicago

Posts: 5,820
---
I've never found the need to use additional software to transfer files. Drag and drop has worked for me as long as the connection was solid and there weren't any file system problems on a Clip whatever the version. That's been the same if the transfer was to the card or the player.
You can try using a different USB port or cable. Even a new cable might have an issue.
If the Clip is in MSC mode you can use whatever file checking utility your OS has to check for file system corruption. My experience is that Clips aren't particularly sensitive to corruption due to disconnecting during a transfer but they have acted up when that's happened.
If you've been using Autodetect that defaults to MTP there's no file system to check. The only thing that I know that can straighten that out is to format and start over. The built in format utility has worked well for me most of the time. The one time it didn't I used MSC mode and the
SD Formatter
and that got it going again.
09-06-2013, 06:15 PM
Junior Member

Join Date: Apr 2013

Location: Georgia

Posts: 55
---
it wont show up on windows and its stuck on the flower thing
Posting Rules

You may not post new threads

You may not post replies

You may not post attachments

You may not edit your posts

---

HTML code is Off

---
All times are GMT -5. The time now is
07:05 AM
.